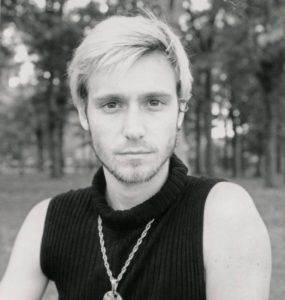 Jacob Budenz is a Baltimore-based writer, actor, director, musician, and performance artist with an MFA in Creative Writing from University of New Orleans and a BA in Writing Seminars and Spanish from Johns Hopkins University. As a resident actor with the Baltimore Annex Theater from 2012-2017, Jacob was involved in several acclaimed productions, including his original adaptation of The Master and Margarita which appeared on Baltimore City Paper's Top Ten Staged Productions of 2016. His poetry chapbook, Pastel Witcheries, debuted in 2018 with Seven Kitchens Press, and an extended edition called Spellwork for the Modern Pastel Witch was one of the winners of the Hard to Swallow Chapbook Contest at Birds Piled Loosely Press.
Among other things, Jacob Budenz's work focuses heavily on dreams, storytelling, the occult, mysticism, queerness, the grotesque, and the unfamiliar. His work in all mediums seeks to empower audiences and move them to experience dramatic catharsis, while exploring the lives of society's outliers. He has performed all over Baltimore, as well as New York, Pennsylvania, DC, New Orleans, and Spain. His writing has been published in presses such as Assaracus and Polychrome Ink, and his work has been commissioned or recognized by organizations such as The Writer's Digest, The Baltimore Museum of Art, and Spark Creative Anthologies.
Contact Jacob for booking, collaborations, or any questions about his work.